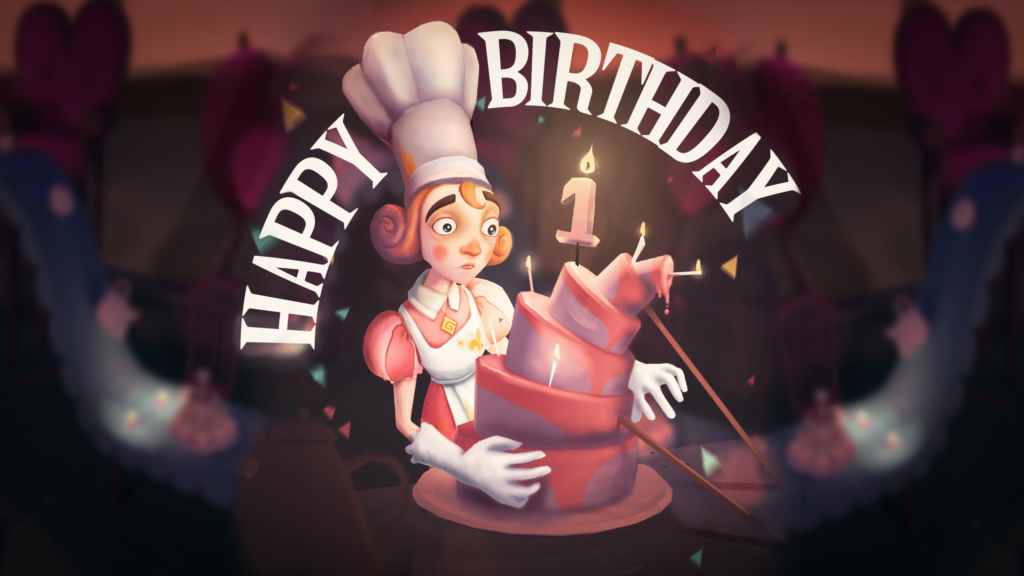 One Year of Down the Rabbit Hole!
Friday, March 26, 2021
Time flies, folks!
Today, it has been a whole year since we opened up the gates to our virtual reality Wonderland. We created a world where up is down and down is up. Little did we know that the real world would turn out the same. We are glad to have provided so many of you with another world to escape to during these difficult times.
Stay safe, and thank you!
Down the Rabbit Hole Fun Facts!
Even though DTRH has become well known to VR adventurers worldwide, few details have been revealed about the game's making. We now want to celebrate our One Year Anniversary by sharing 5 things you didn't know about Down the Rabbit Hole!
#1 – The Pit before Wonderland
The original proof of concept had nothing to do with Alice in Wonderland. Back then, the diorama was a dark and twisted place called "The Pit." At the beginning of the game, the little house is the only object that made it all the way from the proof of concept to the final game.
#2 – The Mirror Realm vs Cortopia Studios
During months of playtesting, the Mirror Realm was our developers' biggest nemesis. This part of the game tended to break down almost every time it was played.
#3 – "Scaramanga"
For a long time, the project's code name was "Scaramanga," named after the James Bond villain with the same name. In our shared drives, references can still be found, confusing the hell out of our team's newer members.
#4 – A hand-painted Wonderland
All the characters in Down the Rabbit Hole are hand-animated by Cortopia Studios' Concept and 3D Artists. The same goes for the textures, which have high levels of hand-painted details throughout the game.
#5 – Easter Eggs
Several Easter Eggs have been hidden in DTRH. Pay close attention as you tumble through. Next time you tumble through Wonderland, pay close attention, and you might find: Hidden "Help me" notes from our team, the sound of a classic "Wilhelm Scream," and photos of Cortopia Studios' two office dogs Purjo and Bobo, among other things!
Anniversary giveaway!
It is indeed a special day for Cortopia Studios. In fact, this day is so special for us that we have spontaneously decided to give stuff away for free. A new Anniversary Giveaway starts today and runs until Wednesday, March 31st. It offers everyone the chance to win a Down the Rabbit Hole gift pack that includes 1 FREE copy of DTRH, 1 DTRH T-shirt and 1 DTRH cup!
All you have to do to participate in the Giveaway is: 1) Follow Down the Rabbit Hole on social media, 2) Like the post, and 3) Mention one friend in a comment.
Good luck!